Allison McGann, BVMS (DVM)
Dr McGann is a Chico State alum who came back to town after attending veterinary school in Glasgow. She enjoys running, gardening, reading, and spending time with her husband and children. In her spare time, she loves exploring Bidwell with her two Australian Shepherds.
Dr. Gary Kitto has been a long-time Northern California resident. He grew up in Maryland and earned his doctorate in veterinary medicine at the Virginia Maryland Regional College of Veterinary Medicine in 1993. He moved to Paradise with his wife Julie in October 2000. They have 3 children, as well as several dogs, cats, birds, and fish. He was the owner and Medical Director of Clark Road Animal Hospital in Paradise, CA for 18 years until the devastating Camp Fire in 2018 when the hospital was destroyed. All the staff and patients were successfully evacuated to safety.
Dr. Kitto has nearly 28 years of clinical experience in small animal medicine and surgery. He has practiced in Baltimore, MD; Yucaipa and Paradise, CA; Walla Walla, WA; and most recently here at Erickson Veterinary Hospital for nearly 2 years. His interests include internal medicine, soft tissue surgery, and preventive health care. At home, he enjoys gardening, camping, boating, golfing, being a busy dad, and taking care of all his four-legged family members.
Johanna Thompson, DVM
Dr. Johanna Thompson grew up on the beautiful Mendocino Coast. She knew from a young age growing up on a ranch that she wanted to help animals. She attended CSU, Chico State. She then earned her doctorate of veterinary medicine from Ross University School of Veterinary Medicine and completed her clinical rotation at Colorado State Veterinary Teaching Hospital. After graduation, she was employed in Oregon and has worked at several hospitals in the northern California area. She now lives locally with her family, enjoying all the wonderful outdoor activities our area has to offer.
Gabrielle Finley-Vaquera, DVM
Dr. Gabrielle Finley-Vaquera was born and raised in Butte County. She graduated with a bachelor's degree in Animal Science and Microbiology from Chico State. She earned her doctorate in veterinary medicine at Oregon State University in 2021 with a focus on large and small animal medicine. She has four cats that she enjoys spending time with. When she's not hanging out with her cats, she enjoys hiking, reading, running, and yard work.
Dr. Justin Uhl, DVM, MS, DACVS-SA
Veterinarian/Surgeon
Dr. Justin Uhl graduated with a bachelor's degree from the University of California, Davis in 2002. He went on to complete a Master's Degree in comparative pathology with emphasis in bone biomechanics in 2008 and completed his Doctor of Veterinary Medicine Degree in 2010.
After graduating from veterinary school, Dr. Uhl pursued a rotating internship followed by a surgery residency at the University of Minnesota. During his residency he served for two years as chief resident and sat on the medical review board at the hospital. He finished his residency in July of 2014 and worked in private practice in Sacramento before starting Summit Veterinary Surgery Service in May of 2018. Dr. Uhl is trained in orthopedic, neurologic, soft tissue and minimally invasive procedures.
Dr. Justin Uhl has multiple publications in bone plate research, bladder stone trends, temporal lobe epilepsy and osteosarcoma chemotherapy. He has also done research in the areas of interlocking nails and cranial cruciate ligament disease. He has spoken at many continuing education events and is a reviewer for the Veterinary Surgery journal and the Journal of the American Animal Hospital Association. He sits on the ACVS continuing education committee. He is a member of the Veterinary Orthopedic Society and Veterinary Society of Surgical Onocology.
When not in the hospital Dr. Uhl enjoys spending time with his wife Tracy and daughters Haley and Madison. He also enjoys spending time running, biking, and swimming and has three dogs and one cat at home.
Judith Vinson, DVM, MS
After receiving a bachelors and a master's degree in animal sciences from the University of Wisconsin-Madison, Dr. Vinson followed her husband's work and transferred through three different colleges of veterinary medicine acquiring her DVM from Texas A & M University in 1990.
Her career has been equally peripatetic; with experience in mixed practice, wildlife rehabilitation, emergency medicine and ownership of a Texas practice that serviced primarily bird and exotic animals. With Vinson family ties in northern California, spousal retirement was followed by downsizing and a return to roots. One of the two Vinson sons' came along for the ride and is finishing an engineering degree at Chico State. The other son remains in the Houston area with his family- including two beloved granddaughters.
Settling into Chico and joining the Erickson veterinary family, Dr. Vinson has enjoyed becoming a member of the community. Enslaved by two tuxedo cats and a basset hound, spare time is often spent with home/garden chores.
Lewis Brogan, DVM (In Memorium)
Hospital Director
Stephanie is a mother of two wonderful sons, Liam & Talan. She loves boating & camping with her husband Robert & and boys. She has three dogs, Skittles, Lyd, and Star. She also loves the outdoors and traveling.
Eztibaliz Garcia
Associate Director of Client Services
Eztibaliz has been a veterinary assistant for 5 years and is currently pursuing her license to become a RVT. She has an associate of science degree in veterinary technology from Carrington College. She's from Williams but grew up in a small town called Maxwell. She is a mother of 2 beautiful kids, Lucia and Jaden. She has 2 dogs named Cookie and Hazel. Cookie is a doberman mix from the animal shelter and Hazel is a husky/pug mix which she had since 8 weeks old. She also has a cat named Cheeto and 2 guinea pigs named Poppy and Panda. She loves her job and enjoys helping animals. She also loves family time, drawing, cooking and spending time outdoors.
Ashley Lockwood
Associate Director of Patient Services
Ashley has been a veterinary assistant for 10 years. She is currently pursuing on getting her license to become an RVT. Ashley is from, Cherry Valley, a small town in southern California. She moved up to Chico a little over a year ago. Ashley has enjoyed helping and working with all types of animals. She enjoys horseback riding, reading, spending time outdoors, spending time with family and friends and hanging out with her 3 year old border collie mix named Trapper.
Registered Vet Technicians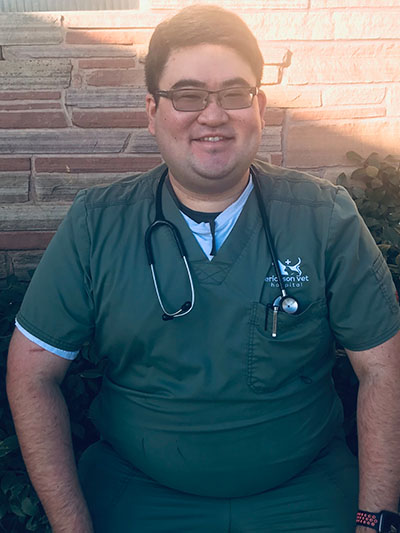 Daniel has been in the veterinary field since 2013. He grew up most of his life on the island of Oahu in Hawaii. In 2017, he left his home town and moved to California to continue his veterinary career. He currently lives in Magalia with his spouse. In his spare time, Daniel loves reading, watching movies, table-top gaming, and cooking for friends and family.
Madison is a lifelong animal lover and mother of two. She is a recent graduate of the Yuba College Vet Tech Program and has since gone on to pass her VTNE licensing exam. When she is not at work she enjoys spending time with friends, her family, and her puppy, Callie.
Amy Silva
Amy has been in the veterinary field for 5 years now. The first 3 years she was a kennel assistant and then for the past 2 years she has been a veterinary assistant. Amy has always had a strong loving bond towards all animals and hopes to treat and heal them as a veterinarian in the future.
Erika Christofferson
Erika has been in the veterinary field for 3 years. She will be graduating from Chico State in May with a B.S. in Animal Science. She is in the process of applying to veterinary school and hopes to become a doctor in the near future! She has always had a passion for animals and looks forward to working with them every day.
Kelsey Anthony
Kelsey is originally from Bakersfield, CA, and moved to Los Angeles, CA where she started work as a Veterinary Receptionist while pursuing her hobby of acting and modeling. She has been in the veterinary field for 2 years now and has always known she wanted to be a veterinarian since she was 4 years old. She recently moved to Chico in May 2022 and is now pursuing her Bachelors in Animal Science at Chico State after receiving her AS-T in Animal Science from Bakersfield College. She plans to pursue her doctorate in Veterinary Medicine and specialize in Oncology. When she is not at work or in classes she enjoys spending time with her German Shepherd/Husky Mix puppy, Tallulah, and Russian Blue mix, Nunu. She also loves interior decorating, cooking/baking, finding new coffee shops, hiking, traveling, music festivals, kick boxing, modeling, acting, singing, and playing guitar, and spending time with family and friends to name a few!
Jessica Andrade
Jessica is from San Jose, California. She is currently working on her bachelor's degree as an animal science major at Chico State. She has been a veterinary assistant for 4 years and absolutely loves working with animals! She hopes to become a veterinarian in the future. In her free time, she loves watching movies, going to the beach, being with her family, and traveling!
Paige Smith
Paige has been in the veterinary field for 6 years now. She moved to the area around a year ago to finish her last year at Chico State University to get her Bachelors Degree in Animal Science. When she's not working or at school, she is spending time with her boyfriend and 2 dogs, or spending time at the lake.
Raina Wright
Client care specialist
Veterinary Medicine has a special place in Raina's heart. She started here at Erickson Veterinary Hospital as a Kennel Technician in 2015. She then moved to Colorado where she worked as a Veterinary Technician in an Emergency Veterinary Hospital for almost 4 years. When her son was born, she took a break from veterinary medicine to manage a dog training and boarding facility in Fort Collins, Colorado. Being closer to family brought Raina back to Northern California and our hospital. She currently has 3 dogs, 5 goats, and a horse. When she is not at work she is either spending time with her husband and son, or serving as Director to the Miss Butte County Scholarship Program.